How to DigiBobbE™; 
1 - Wind the Candlelight yarn onto the bobbin. The yarn should follow the same path as it would if it were regular thread. Lightly hold between the thumb and forefinger.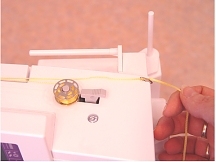 2 - Load the bobbin into the bobbin case. Adjust the bobbin tension so that the Candlelight Yarn pulls with a normal tension. It is helpful to have a second bobbin case that you can adjust.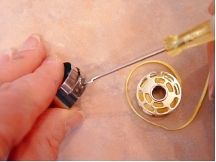 3 - Load YLI Wonder Invisible Thread on the top of the sewing machine. Increase the top tension slightly.
4 - Load the fabric with the right side down and the stabilizer on top, into the embroidery hoop. This is upside-down from what you might think. Remember that the design will be stitched from the bobbin.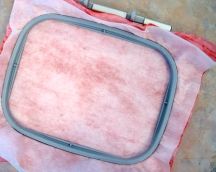 5 - Hold the top thread and draw the bobbin thread to the top side (stabilizer side).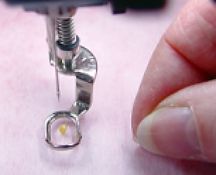 6 - Stitch out the design. Leave a 5" tail of Candlelight Yarn.
7 - Use a large eyed needle to thread the Candlelight Yarn tail to the back of the fabric. Tie of the end.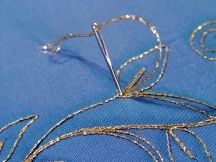 8 - Remove it from the hoop and tear away the stabilizer.