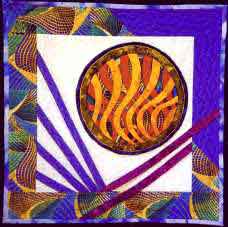 28" x 28"
Autobiography
by Bonnie Lyn McCaffery
The passionate waves are contained within a cool ring. Beneath the passionate waves there is a very complex fabric. The bands radiate in many different directions, two of these bands even break out over the boundary. Notice that these two bands are going in opposite directions.
This is a dimensional quilt with several different layers.