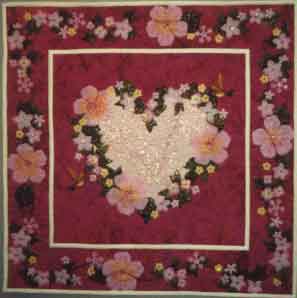 35" x 35"
Valentine Floral Wreath
by Bonnie Lyn McCaffery
Artificial Flowers are captured under tulle. The pattern for this quilt is available in the "Fantasy Floral Quilts" book.
Do you want to create beautiful floral quilts QUICKLY and EASILY? This book will show you how to take artificial flowers and capture them under a sheer layer of tulle. Fast and fun! You can create bouquets, wreaths, album style quilts, landscapes, freeform designs, and add flowers to a pieced or appliqued background. This technique is so quick, you'll have lots of finished gifts for your friends and family.