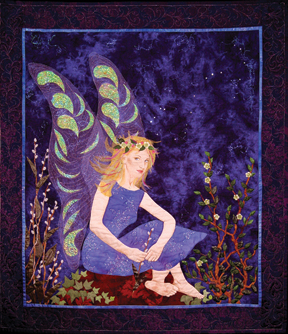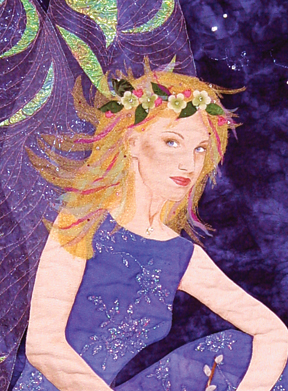 44" x 50"
*Please note that many of the quilts for sale are sold as is. They might
have minor wear from travel and display.
Contemplation III: Oh, Just to Be
by Bonnie Lyn McCaffery
This is the third in my "Contemplation" series. Here she sits with flowers in her hair from the bush in front of her and she has the pussy-willows from behind her in her hand. So the message is that the future is one her mind, but she is holding on to the past.
The techniques used to create this piece are twisted branches (a technique in the Fantasy Floral Quilts book), Fantasy Fabrics (capturing everything under a layer of sheer burgundy tulle), and my newest venture of Painting the Face on cotton with DecoArt SoSoft Fabric Paints. This is my newest class "Painted Faces" (Yes, You Can Do This!).
Believe it or not, YOU CAN DO THIS TOO! Learn how to paint faces on fabric.  I taught a test workshop to my guild and it was amazing to see these ladies (who did not believe they could do this) were able to successfully learn how to do it. The painted face can then be embellished (the "Fantasy Fabric" way) with cut shapes for hair and added objects (flowers, threads, etc.) captured under a sheer layer of tulle. Once you experience this, you will be able to paint your grandchildren, friends, parents, and children and create a personal quilt just for them.
Take a look at some of the "Painted Face" test workshop STUDENTS work.