Basic Kaleidoscope Piecing Workshop

5 Hours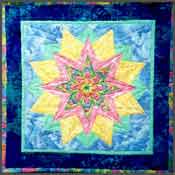 Learn a unique PAPER STRIP PIECING TECHNIQUE to create this eye-catching quilt top. Paper piecing increases accuracy, while stabilizing the many biases. Using mirrors, we'll choose fabric placement without wasting a lot of material. The color possibilities are endless. There is an additional pattern fee to be collected by the program director.
"Wonderful teacher - lots of fun and good directions."
Click here if you're interested in booking this workshop.