Painted Face for BEGINNERS Workshop
(ALWAYS A FAVORITE!)
5 Hours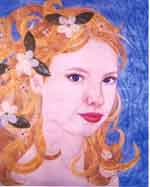 Yes you can!!! A guideline drawing under your fabric makes positioning features easy. By the end of the class you will have a painted face ready for the addition of hair and clothing. Once you learn this technique you will be able to paint your own choice of faces - family & friends. Combine this class with the "Fantasy Fabric Sampler" workshop and you will be able to complete a Painted Face design with hair and clothing.
"I need a ruler to draw a straight line, so I was amazed with the results of this workshop. Bonnie is a patient and expert instructor. I was having so much fun working on the first face that I did not remember that I wanted to put borders on it. I'll never doubt Bonnie again. She said I could and I did."

-Barbara Anderson



Painted Faces is one of the best classes I've taken. With the step-by-step instruction and excellent demonstration, everyone can paint a great face. No matter what your skill level or even if you have never painted before, Bonnie guides you every step of the way. She made learning to paint a face such a wonderful experience and broke it down into a workable process that anyone could do it. And they did...the whole class went home with great looking faces.

-Michelle Verbeeck
The title "Painted Faces" somewhat intimidated me when our guild offered this class because I'm one of those people who really can't draw a straight line without a ruler. Bonnie's insight and method of breaking down each feature of the human face made this project not only possible for me but it actually looks like my daughter, Julie! -JoAnne Finnigan
Click here if you're interested in booking this workshop.