DigiBobbE™; Workshops
New!
DigiBobbE™; Fun - 5 Hours
DigiBobbE™; Quicky - 2/3 Hours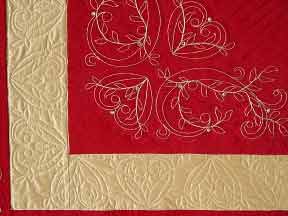 This is a new technique for DigiBobbE™; (digitized bobbin embroidery). Have fun experimenting with this new technique, while stitching up a few experimental pieces. We will learn how to do bobbin embroidery on a machine embroidery unit. Candlelight Yarn is a gorgeous stitched from the bobbin and the embroidery machine makes it quick, easy, and accurate. Learn how to mark the pattern, hoop the fabric for specific placement, and also how to combine the designs. Embroidery machines with adjustable bobbins are required for this workshop. Examples of DigiBobbE™;.
How do you DigiBobbE™;?
How to combine DigiBobbE™; designs
BUY DigiBobbE™;
Click here if you're interested in booking this workshop.